As it applies to health, and all other aspects of life for that matter, knowledge is power.  We are fortunate to live in a time where we have access to an abundant supply of information and resources which serve as a helpful guide to living healthier, happier lives well into our golden years.  For seniors, maintaining quality of life can often be complicated or present somewhat of a struggle and it really does require a conscientious effort in order to lead a healthy, active lifestyle.  Luckily, there are plenty of wonderful local resources that are always available to lend a helping hand wherever and whenever they are needed.  The collective goal is to support the continued wellbeing of seniors in our community throughout their aging journey in all ways possible.
According to the International Council on Active Aging, research shows that an active lifestyle can lessen the challenges and increase the opportunities associated with an aging population.  Roxann Rogers-Meyer, Vice President of Marketing & Communications with Immanuel and Immanuel Communities, says, "Seniors who move into a retirement community when they are younger and in good health can live in independent living an average of seven years longer than an individual who moves into a community in poor health.  Staying active is the key to continued good health.  It is also important to maintain friendships and family connections.  Isolation for the older adult is a concern for overall wellness and families need to pay close attention to their loved one so they are not isolated.  Immanuel Communities, which includes The Landing at Williamsburg Village in Lincoln, embraces a philosophy of wellness that includes Body, Mind and Spirit.  Our communities feature AgeWell Centers that focus on physical wellness by tailoring individual programs for AgeWell members.  We address wellness of mind with engaging activities and events including a Lifelong Learning series that highlights everything from a presentation on Afghanistan studies to an interactive experience with animals from the zoo!  The Landing at Williamsburg Village also provides opportunities to nourish the spirit with worship opportunities, Bible study and volunteer activities in the greater community.  Our residents and staff recently participated in making meals for Kids Against Hunger and this was a great partnership for residents and employees to work together for the benefit of the greater community.  Immanuel also sponsors an annual Resident Appreciation event that has featured Peggy Fleming, Dick Cavett and James Lovell from Apollo 13 in addition to the Immanuel 100 voice choir."
Pam Carlson of The Waterford Communities adds, "We all want to age gracefully and we know that starts with diet and exercise, but equally important is maintaining strong social relationships and a positive attitude.  A recent Harvard study suggests that while important, your cholesterol level isn't the only thing that will help you to live a long, healthy life.  Positive social relationships not only help us feel loved and valued; they also stimulate our mental health.  As we age many times our social life slows down as well.  The kids have taken away the driver's license (rightfully so but we will never admit that to them), our friends have passed on or are all 'old' (even though these friendships have spanned over 50 years) and we are just too darn tired to go out.
Does life seemed to have slowed down?  Does your loved one still actively participate in social outings with friends?  Retirement living options offer social interaction without leaving your home.  Daily activities are offered to stimulate an individual's physical, mental, spiritual, emotional, and intellectual wellbeing.  Even if you aren't a 'social' person, three meals a day in the company of other residents can offer opportunity to socialize and re-energize your health.
If your current lifestyle isn't what you want it to be, it's never too late to change. 'It's a little like opening an IRA,' says George Vaillant, MD, director of the Harvard study and senior physician at Brigham and Women's Hospital in Boston.  'The earlier you start one, the better, but no matter what your age, it's still worth doing.' I guess you can teach a dog new tricks after all! Be well."
Katie Johnson, Wellness Director for Legacy Retirement Communities, also speaks to the importance of taking into account all aspects of wellness, no matter how young or old you are.  She says, "Staying healthy and feeling your best is important at any age and that doesn't change just because the number of birthday candles is getting higher. As we grow older, we experience an increasing number of major life changes, including children leaving home, career changes and retirement, the loss of loved ones, and of course, physical changes. How we handle those changes and grow from them is the key to staying healthy.  It's about reinventing oneself and finding new ways to keep the body and mind active.  An example might be that your knees have been causing you pain, so you feel you are not able to go on your 30-minute walks anymore. Instead of giving up on being physically active, you could decide to join a water aerobics class as that activity involves less impact on your knees. Again, it's about adapting to the changes that you are going through and growing from them."
Johnson adds, "Beginning in June, the Legacy Retirement Communities will begin a monthly informational series called 'The Legacy of Learning' to help educate people on various topics pertaining to life's changes and how to ease the aging process.  Topics will include wellness and cooking, life enrichment, and dementia and Alzheimer's.  It's very important to remember that being 'well' doesn't just mean your body is in good shape. Physical wellness is just a small sliver of being healthy. As we age, other areas of life also need to be 'well.' Some of these include:
• Emotional wellness–Being able to adjust to change, coping with stress and expressing your feelings in a healthy way.
• Social wellness–Having positive interactions with other people, getting involved in group activities.
• Intellectual wellness–Being open to new ideas, seeking personal growth by learning new skills. Looking for ways to be creative.
Always remember that knowledge is power!  Taking advantage of resources and programs within the Lincoln community is a wonderful way to stay healthy as well as connected and involved."
Keith Fickenscher of Lancaster Rehabilitation Center agrees that seniors should be aware that their bodies have changes over time, and emphasizes that it is no longer prudent to neglect any aspects of their health as they may have done in prior years.  He says, "I always encourage seniors to take advantage of community resources, such as wellness clinics or health fairs, in conjunction with regular visits and consultations with their primary care physician in order to minimize the effects of the aging process.  Most importantly, listen to your body.   As you age your body will tell you when something is wrong, and it's very easy to just push it aside like you did 20 years earlier. Your body will give you warning before something major happens if you just listen to it.  Speaking from personal experience, the failure to follow these simple maintenance steps of overall health was my major downfall when it came to the onset of my stroke.  Also, it is highly beneficial for seniors to be actively engaged in a fitness program whether at a club, gym or even in their own home. Remember, for overall good health it's as important to keep your mind as healthy as your body. Ways in which you could do this includes word puzzles, volunteering, or part time work. It is also very important to be aware of your diet and understand the connection between being healthy and eating healthy."
Mary Ann Stallings, Consultant and Owner of Bridge to Better Living, similarly addresses the role that living arrangements play in the overall health and wellness of seniors.  She says, "One of the most important aspects of aging well is to remain active and mentally engaged.  When looking for different living arrangements, it is important to research early and research thoroughly what amenities and services each new community would provide and have available. Bridge to Better Living is an excellent resource for navigating the different living options in Lincoln.  After meeting with their clients, Bridge to Better Living will arrange for tours, meetings, and act as the personal representative of each family–all without any cost. My advice to seniors and their families would be to reach out to the resources in your community.  Don't be afraid to ask questions, and above all, don't wait for a crisis to begin studying your options."
We are privileged to have a wealth of resources available for seniors in Lincoln, all of which offer experienced professionals whose goal is to provide a solution for every problem and an answer for every question.  Amy Fish of Gateway Senior Living says, "Seniors should make it a point to familiarize themselves with the vast amount of resources available to them that promote good health and overall wellness.  There are a host of senior friendly fitness programs, nutritional workshops, and various support groups that promote and support a healthy lifestyle.  At Gateway Vista our philosophy is to ensure our residents receive the right amount of care and service at the right time.  Often, with just a little bit of help, seniors can maintain an active and engaged lifestyle.  So don't be afraid to ask plenty of questions, and keep your health professionals engaged."
One main issue that can impede seniors in their efforts to stay active and to seek proper health care is access to transportation.  Fish adds, "We're finding on a more routine basis that our residents desire to stay active in the greater community, even if they can no longer get around on their own.  Therefore, a reliable transportation service is important for continued social and medical needs.  There are so many health and wellness resources and experts in the community; all seniors need to do is ask for assistance, even in simply getting them to where they need to be.  Healthcare providers in the Lincoln community also frequently partner together in order to steer people in the right direction for care and services, so asking for suggestions or referrals is always a good idea too."
Hearing can deteriorate as we age, and there are several signs to look for when determining if your hearing isn't as good as it has been or should be.  Are you asking people to repeat themselves?  Do people around you seem to mumble?  Do you have trouble hearing on the phone or in crowded places?  Can you hear men's voices better than women's voices? It is common for seniors to begin to withdraw from social functions and isolate themselves because they aren't hearing well.  Seniors don't mean to isolate themselves; it slowly happens over time, because it is just easier. On average, it takes seven years of struggling with hearing before that person will take action.  It is also very important that your hearing aid specialist is a licensed Audiologist and not just a sales person.  Why trust your hearing to anything less?
Leslie Frank, MS CCC-A of Nebraska Hearing Center explains, "Hearing aids are not your Grandma's hearing aids anymore.  Technology has enabled us to have hearing aids that you can't see.  They fit completely into the ear, and no one knows you are wearing them unless you tell them. Our latest product, the A3i, syncs with Apple products so that sound streams directly into your ear.  At Nebraska Hearing Center, a hearing evaluation is always free.  We suggest scheduling an evaluation now to set the baseline and monitor it annually.  It really makes sense to be proactive since the test is free."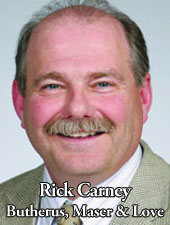 As with preventative health care, making plans for end-of-life arrangements should be done as far in advance as possible—even if you are in good health or still consider yourself to be young.  Rick Carney, Family Service Representative at Butherus, Maser & Love, says, "Everyone hopes for a long, full life and it would be nice if we each knew how much time we have left on earth.  But we don't, and when someone who seems very healthy is suddenly gone it can be more traumatic for the family than if there had been a lingering illness or an apparent cause for concern.  Preplanning is arguably more valuable in those situations for the healthy individual, rather than when someone's passing is expected or anticipated. While being able to avoid the impact of inflation on your selected arrangements by pre-planning is beneficial, the most important reason for making these arrangements is simply to ease the burden of decision-making on your loved ones. In my experience, they will be so appreciative that you have given them a little guidance.   Moreover, we are so fortunate in Lincoln to have so many support groups and organizations to assist families throughout the process of grieving.  Whether you are in need of reference material, a support group, or individual counseling, we would be happy to give our best efforts in assisting you with finding the information or resources you need.  We provide the families we assist with an 'Aftercare Packet' of information that lists many of these books and groups.   I, for one, am blessed to still have my parents and as their children, we should make sure we take the time to check on them regularly.  This includes determining if they are having any new medical issues or problems, as well as making sure they are eating right, keeping up with their personal hygiene and daily tasks, and taking any necessary medications as directed.  Encouraging our parents or relatives to stay active and get involved in the community, such as volunteering with an organization they are passionate about, really goes a long way in maintaining good health too.  One of the best ways to keep a positive mindset as we age is to simply stay busy assisting others."
Jodi Finch of Roper and Sons Funeral Services advises, "Good health and wellness are so important at all ages.  Staying active and keeping ourselves in shape with exercise, proper nutrition and of course challenging our minds, keeps us all at the 'top of our game.'  We believe that taking a proactive approach to physical, emotional/mental and financial well-being is one of the most important things anyone can do.  There are many ways to approach health and wellness throughout the aging process, and we are proud to be able to offer access to information and activities each month.
At Roper & Sons, we offer monthly conversations with all sorts of experts who offer advice, suggestions, tips and assistance for our physical, emotional and even financial well-being.  Our Topic Breakfasts take place on the third Thursday morning, and Coffee & Conversations takes place on the fourth Wednesday evening each month.  At these seminars, we host speakers who impart wisdom ranging from protecting your assets to improving your diet and exercise, and much more.  We invite members of the community to join us for one or both of our seminars every month, free of charge.  You can learn more about each topic at our website, www.roperandsons.com, under Upcoming Events.
In addition, we know that planning ahead for your final wishes is one of the most important things you can do – both for your own peace of mind and for that of your family.  End of life decisions are never easy, and it's not a very 'fun' thing to think about.  However, when you plan ahead, it not only eases some of the emotional burden your loved ones are facing, but allows them the peace of not dealing with the financial aspects.  We have two Family Service Counselors who are experts at helping to make the conversations and decisions easier. You can contact them by calling Roper & Sons or emailing info@roperandsons.com."
While you may not be an expert yet at planning for what care and services you will need as you age, the best part is that you don't have to know the answers to everything because there are professionals who do.  Kristine Schoening, Vice President Continuum for Tabitha, encourages seniors to be aware of the valuable resources available in the Lincoln community.  She says, "The most important thing Elders and their families can do is to be proactive, and to be prepared for just about anything, by exploring their options. Often, families come to Tabitha as a result of a crisis such as a fall or illness. Their families haven't discussed what they want for 'mom' or what 'mom' wants for her own aging journey. At that point, the options are limited and decisions often made quickly. Researching the options early will help your family make the best care decisions for loved ones."
The continuum of services we offer at Tabitha was designed to meet the need of anyone on the aging journey, whether you are in need of a little support at-home, are looking to live in a supported living community, rehabilitating from a surgery or injury, or in need of compassionate end-of-life support. In my years of helping families navigate our continuum, I've found that Tabitha's adult day program is one of our best care options for families and is often underutilized. A daytime home away from home, Tabitha Adult Day provides a safe, nurturing environment for adults who need extra care during the day when family members may not be available. The program is reasonably priced and provides supervised care, enriching activities, and even meals and snacks.
"I can't emphasize enough the importance of looking at the options early, before something like a fall or illness occurs and limits care options. Make sure to involve your loved ones in the discussion and the decision making process. Tabitha's Continuum Navigators can help to assist in conversations as well as explaining all of the options that are available in detail, or you can visit our website at www.Tabitha.org. The website offers a variety of educational resources from radio podcasts to eBooks to basic information on our programs and services."
Furthermore, Charity Ebert, Home Health Care Administrator at Tabitha, echoes the importance of planning for the future.  She advises, "It is very beneficial to take the time to know what you (or your loved one) want during your own personal aging journey. Often people think that the options are limited; that when you get to a certain age, the traditional senior living community is the only option. While in some instances assisted living communities are essential for individuals with certain care needs, this option definitely isn't the only one available. If Mom and Dad want to live out their final years at home, that's absolutely possible. In-home support services are a great option for Elders and families throughout the aging journey. Tabitha offers everything from a daily meal and safety check to basic in-home support including bathing, meal preparation and transportation, in-home nursing and rehabilitation services, and even at-home end-of-life support.  If you're unsure whether you or your loved one needs more help, I strongly recommend exploring each of the options available. Tabitha's eBook series is free and includes a guide to help you recognize the signs which indicate that more help may be needed. It can be downloaded at www.Tabitha.org by clicking on 'Download eBooks.' If you think you may need more support, always reach out to the experts. Tabitha Continuum Navigators help you and your loved ones weigh the options and determine what services could be helpful now as well as anticipate those that may be needed in the future."
It's no secret that we are all aging, and also that maintaining good health is crucial to our longevity and continued enjoyment of life as we grow older. Therefore, it is very important to remember that there is no definite age we reach when we no longer have to make the effort to maintain our good health and overall wellness.  Good health doesn't just happen; taking care of ourselves and ensuring we are as healthy as possible should be an integral part of our everyday lives, no matter how young or old.
Anne Deterding, owner of Right at Home, provides tips for staying healthy as we age:
Get More Exercise.  Most of us know that exercise keeps our muscles strong.  But that is only the beginning when it comes to this vital factor for optimum aging.  Exercise benefits every part of the body and protects against a host of health problems.  It lowers the risk of depression and even slows changes in the brain caused by Alzheimer's disease.  Geriatrics experts tell us a good exercise program includes aerobic activity, muscle strengthening and flexibility exercises, and balance training to help avoid debilitating falls.
Exercise Your Brain.  Neurologists tell us that we can engage in mental activities that keep our minds and memories sharper.  With today's sophisticated brain imaging techniques, it is possible to witness the way mental exercise promotes the growth of new brain cells and brain connections.  Any activity that stimulates the brain in a new way can be protective.  Take a language class, learn to play an instrument, or improve your computer skills.  Humor also is protective, so find things that make you laugh– or better yet, share a laugh with a friend!
Spend More Time With Others.  Researchers continue to confirm what most of us intuitively know:  People need people.  We humans are wired to spend time with others.  Without meaningful social interaction, loneliness and isolation lead to elevated stress.  Yet as we grow older, our children move out, we retire from our jobs, or perhaps we relocate to a new community….all are changes that reduce familiar social opportunities.  We may need to create new opportunities for socializing.  Check out activities with others at clubs, faith communities, senior centers, even on Facebook or other online sites.  Many seniors find that volunteering is an especially rewarding way to help others while reaping our own emotional benefits.
Follow Your Healthcare Provider's Suggestions.  Though we will experience predictable changes to our bodies and minds if we are lucky enough to enter our 70s, 80s and beyond, our individual needs may differ from those of others.  Make regular healthcare appointments and follow the doctor's advice about medical treatments, medications, diet, smoking, alcohol consumption and other lifestyle choices.  Also important is getting any needed vaccines for viruses like the flu or shingles.  Healthy aging is a team effort!  It's never too late to adopt an improved living strategy for the rest of your life.
Deterding highly recommends starting to think about the care you might need as you age right now. However, there are usually three major obstacles that stand in the way of planning:
1) Information.  People who feel they know where to get information on aging issues are more apt than others to have prepared for these needs, including setting aside money for ongoing living assistance;  discussing their care preferences with loved ones;  seeking out information on aging issues;  completing advance directives;  and purchasing long-term care insurance.  But nearly half of Americans age 40 and older lack confidence that they know where to go for information about aging and long-term care insurance.
2)  Experience.  Planning for long-term care is significantly higher among Americans who themselves have given care assistance to aging loved ones.  Those who have provided or received long-term care assistance report planning for their aging significantly more than do others.
3) Avoidance.  Three in 10 Americans age 40 and older say growing older is something they "just don't want to think about," a sentiment especially expressed by those who worry about burdening their families as they age, or about being alone in their later years, and those who feel they lack the financial resources to pay for long-term care costs.
For more tips around the topic of Senior Health, visit www.caringnews.com to sign up for a free subscription to the Caring Right at Home online newsletter.
Vicki Newman of Lincoln Family Funeral adds, "You never, ever know what life has in store for you.  Most of us find it easy to put off the things we don't like to talk about.  This holds true with many things in life, but especially as it applies to our health, insurance needs, funeral wishes, your will or living will….we tell ourselves that we are too young and we'll worry about it when we get older. From personal experience, life can change so quickly!  Three and a half years ago, at the age of 43, I was diagnosed with a progressive neurological disease that turned out to be ALS (Lou Gehrig's disease). I'm very happy that I had some things in order but when you're told you have 2-5 years to live, there is a radical change in what becomes important.
Financial worries plague people as they age and/or are dealing with any disease progression.  People are living longer and as a result, their money isn't.  The more you can prepare by pre-financing your funeral, paying for long-term care insurance, life insurance, having a will and a living will and taking time to work with a good financial adviser the better you will feel.
This approach satisfies the financial worries but although I stress the importance of it, individuals and families need to learn how to get emotionally prepared also.  As I said before, we tend to not talk about these topics.  In response, Lincoln Family Funeral Care created a program called Passages to fill this gap.  Passages features a 45 minute presentation on four core end-of-life decisions:
• How to Celebrate Your Life
• How to transfer your sentimental items the right way
• Ethical Wills – How will you be remembered?
• The Thank You of a Lifetime – Living Funerals
When this program launched in the spring of 2013, it was mainly presented to hospice patients and their families.  As word spread, we started hosting the program at churches, assisted living facilities, retirement communities, senior centers, support groups and organizations.  A year after its inception, Passages is presented about six times per month.  If you are interested in attending one or would like more information for yourself or organization, please call (402) 464-6400 and ask for Vicki.
In regards to the resources available to seniors in Lincoln, I often refer people who are 65 and older to Aging Partners–especially if they like talking to a human instead of utilizing a website.  Another wonderful resource is Care Consultants for the Aging's Elder Care Resource Handbook (available online at www.careconsultants.com or by calling their offices in Lincoln or Omaha), which is packed full of so much useful information.  It also has an index of everything you could imagine that someone might need—even just things to do when you get bored!"
Memory loss can be present at any age, but it is a common struggle for the senior population.  Deb Maguire, Administrator at High Plains Alzheimer's Special Care Center, explains, "We understand that caring for a loved one with memory loss is a difficult and challenging experience. We also understand the decision to place a loved one in the care of others is perhaps the most difficult decision you will ever make. High Plains is here to help ease your mind. Our philosophy of care is focused on the knowledge that to provide the care and support our residents need, we must know and understand memory care and the every changing impact it has on their ability to understand their world. We get to know each resident's life story to create moments that are meaningful to them personally. We strive to provide a warm, caring and supportive environment where our residents can experience daily routines and familiar faces. Our programs are designed to add meaning and value to their lives and to help them feel comfortable in their environment. As partners in care, we will work together to build a plan that supports their independence and provides them with the sense of belonging that is so important to all of us. Our philosophy of care is a simple one: To care for each resident with dignity and respect and join you in honoring them."
Here are some answers to common questions regarding care and services offered at High Plains:
Q: Why is it important to know about the resident's past experiences, preferences and life story?
A: It can give us clues to present moods, fears and behaviors, and also give us ideas for engaging them in conversations, reminiscing and triggering pleasant memories.
Q: What does it mean to minimize a person's disability?
A: By allowing and assisting the resident to do as much for themselves as possible, also recognizing their limitations and not frustrating them by asking or expecting them to do something they are not able to do by themselves, allows them to maintain their independence and boost self-esteem.
Q: How do you train staff to handle behaviors?
A: We know that a resident's challenging behavior is just another form of communication. With limited abilities to understand their environment and express themselves, residents develop their own way to communicate – positively or negatively. All behavior is communication. This allows us to let them have meaning and purpose to every day.
Q: What do you mean by "We care for the whole person?"
A: It means not only do we meet the residents' physical needs, but it is equally vital that we address their social, emotional, mental and spiritual needs, to ensure that their lives continue to hold meaning and purpose.
Q: How can families get incorporated into the Meaningful Moments program?
A: We encourage family to participate in events and activities, provide them with ideas for interacting with their loved ones during visits, join them in conversations and give them interesting bits of information about what their loved one has been doing since their last visit.
For more answers to your questions or for a free tour, call Deb at (402) 483-0250.
If access to health care is an issue, there are still resources available to ensure you get the care and services you need.  Health at Home Consultants is a Nurse Practitioner owned business specializing in providing home-based medical care.  They specialize in bringing high quality, cost effective healthcare to seniors in their home environment.  Their Nurse Practitioners act as your partner in health–if you are unable to get to the clinic, they will bring the clinic to you!  Jamie Peters, APRN of Health at Home Consultants explains, "A Nurse Practitioner is a registered nurse who has completed advanced education (a minimum of a master's degree) and training in the diagnosis and management of common medical conditions, including chronic illnesses.  Nurse Practitioners are qualified to provide a broad range of health care services, including many of the same care services commonly provided by physicians, and can serve as a patient's regular primary care provider (PCP).  Health at Home Consultants provides compassionate and coordinated care, considerate attention to prevent unnecessary hospitalizations by providing regularly scheduled visits, and availability for last minute needs in the home setting."  She adds, "Our Nurse Practitioners are one of a small but growing number of providers across the United States who have chosen to make house calls.  Often these patients have limited mobility or failing minds and would otherwise not be able to see their doctor unless taken by an ambulance to the emergency room.  Others could travel without much difficulty but prefer the convenience of a house call when available.  House calls provide a valuable service to homebound residents—those best served by house calls are generally the elderly as well as those who are chronically ill, are disabled, or have psychiatric conditions.  Some of the services our Nurse Practitioners can provide include:
• Ordering, performing and interpreting diagnostic tests such as lab work and x-rays, flu shots, pneumonia vaccines and all other injections.
• Diagnosing and treating acute and chronic conditions such as diabetes, high blood pressure, infections and injuries.
• Prescribing medications and other treatments as needed.
• Managing a patient's care while maintaining continual communication with the primary care physician.
These services may be performed in the home setting, whether it is an assisted living facility, skilled nursing facility or in the comfort of the individual's home.  At Health at Home Consultants, it is our mission to provide safe, quality, home-based medical care which is cost-effective, patient-focused and responsive to the needs of the community.  We provide health care services to aid in preventing and protecting against disease and disability, to promote health and wellbeing, and as a result, to enhance quality of life."
Throughout the years, Care Consultants for the Aging's Home Care Registry and ElderCare Resource Handbook have helped thousands of people in Nebraska and Iowa with their eldercare needs.  The Home Care Registry helps with finding qualified caregivers to fit your home care needs, and the ElderCare Resource Handbook offers a complete listing of companies that provide services to seniors in the Lincoln, Omaha and Des Moines metro areas.  You can access these resources online at www.careconsultants.com.  Everyone is different and people need various options while navigating their healthcare journey.  Many different factors determine when and what kind of help is needed.  Furthermore, Care Consultants understands that it is hard to ask for help.  By understanding the services, resources and options that are available locally, seniors and their families will be able to make informed decisions that have the potential to enhance their quality of life and independence.
Leading a healthy lifestyle encompasses much more than merely the physical aspects.  There are, in fact, plenty of positive aspects of growing older and we encourage seniors to take personal responsibility for their health and wellness, whether physically, socially, mentally, or financially.  The goal is to maintain your good health so that you are able enjoy everything that life still has in store for you!