Enhance Your Team Culture – Lancaster Rehabilitation Center
We are fortunate to live in a community where there are endless possibilities for staff outings. In past issues you've followed us on some of the exciting, unique experiences we've put together as our recommendations. This month we're excited for a change of pace and to remind our readers of another valuable opportunity for community involvement. Whatever your interests may be, Lincoln offers an abundance of volunteer opportunities for you to give your time and talents for the greater good.
Lancaster Rehabilitation Center| 1001 South St | 402-441-7101 | www.lancasterrc.com
Perhaps, the most overlooked activities are those that involve volunteering at one of the remarkable facilities that serve our senior population. For an activity that costs you nothing, the outcome and impact as a result is priceless. Among the many benefits of volunteering in a nursing home are: building new friendships (with residents and staff alike); making a difference in a person's life; trying something new; expanding on job experience; and being of service to your community. This month, our team was honored to volunteer at Lancaster Rehabilitation Center in Lincoln and we are thrilled to share our experience with our readers.
Lancaster Rehabilitation Center is Nebraska's largest skilled nursing facility, and is located at 1001 South Street. From the moment you walk through the front door, you feel at home in a friendly, comfortable atmosphere; the quality of living is apparent across the board in this state-of-the-art facility. In 2010, after the facility (formerly Lancaster Manor) was purchased by Altitude Health Services, a $2.5 million dollar remodel to much of the first floor was completed. The renovation project included a Husker lounge, Bistro Café, theater, library, and private dining room for residents and guests. However, most impressive is the state-of-the-art therapy gym with the sophisticated Alter G treadmill for rehab patients.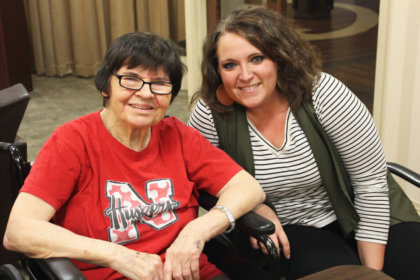 We had the pleasure of spending time with four of Lancaster Rehab's residents – Mary, Marge, BJ, and Kay – in the Theatre Room. We brought yummy treats with us, cupcakes and muffins baked by Paige herself. The setting allowed for each of us to visit with them one-on-one. We heard all about their colorful lives, reminiscing about the past and talking about what's going on presently in the world. When our visit came to a close, we walked each resident to their room and they thanked us for spending time with them. We were amazed by how appreciative they were of our impromptu visit. We learned that the rewards of volunteering are two-fold. You'll be surprised by how much you'll get back – whether it's a new outlook or a warm smile – when you give your time to help another.
For a full line-up from any of our staff outings, go to our Facebook page to see more! As for those who are considering planning a similar team-building activity or event, these are our recommendations of local businesses that can help you maximize your time while you treat your staff to a change of scenery and a chance to have some fun together outside of the office – whether it is just for a few hours or for the whole day. You'd be amazed at how much you will benefit personally and professionally from spending a little time together in a different environment! For more information on how to be featured please contact us at (402) 466-3330 or Office@StrictlyBusinessOmaha.com.